My 20 Favourite Things to Do In Indonesia
After several requests, I'm finally taking the time to share my top things to do in Indonesia! I've been based in Bali for about a year and before I depart this month, I want to pay homage to this wonderful island I've been blessed to called home.
You see, as a digital nomad, I travel often. Usually monthly! But all roads have constantly led me back to Bali. I lead a busy life, so I always come back here to recenter and refocus. Prior to being based here, I had visited 6 times. It's literally my version of heaven on earth and I'm thrilled to share with you my favourite things to do on this island ... and in Indonesia overall (in no particular order of preference)!
Massages are easily one of my favourite past times in Bali. In fact, I read somewhere that Bali has the most spas (per square meter) in the world! Which makes complete sense as everywhere you turn there's an opportunity to indulge in a treatment. For as low as $5 USD, you can enjoy a 1-hour full body massage. Or, you can spend half a day pampering yourself with numerous treatments for as low as $50 USD. If you are looking to really spoil yourself, head to one of the higher end, world-renowned spas! Whether it's a flower peddle bath, a hot/cold plunge, or a body scrub, Bali is the spa paradise for you!
2. Spend the Day in Uluwatu
Located on the south western tip of the island, Uluwatu is a home to some of the prettiest cliff views I've ever seen. I'll often head to Uluwatu for a getaway. If you have a day to spare on your trip to Bali, I suggest spending the morning at one of the beaches, then for the afternoon head to a beachside bar and enjoy happy hour while watching the professional surfers. In the late afternoon, you can head to Uluwatu Temple to enjoy sunset and a traditional Kecak Fire Dance Performance! (Tip: For the Kecak dance, get your tickets early as spots fill very quickly)
3. Waste the day at a Beach Club
Beach Clubs are so popular in the Kuta District (namely Canggu, Kuta, Legian, and Seminyak) and I understand why! You can waste the day by renting out a cabana, enjoying fun cocktails and listening to some good tunes. They usually have an amazing infinity pool and are steps away from the beach. Many of the beach clubs also have day parties that are fun! It's worth doing at least once while in Bali - anywhere else in the world will cost you an arm and a leg! My favourite beach clubs are The Lawn, Finns, La Brisa, Potato Head, Sundays, Mrs. Sippy, and Ku De Ta.
4. Head to the Bali Swing
Okay, I'll be the first to admit it's touristy and overpriced. Some even say it's overrated... but I disagree. When else can you go on 6 giant swings, in a Bali jungle, and take beautiful photos? I say if budget permits, you make this a stop during your time in Bali! I didn't regret it one bit! It's touristy and popular for a reason!
5. Spend Some Time in Ubud
Depending on where you stay, I highly recommend at least a few days in Ubud. It's such a diverse town where you can get the most amazing spa treatments, enjoy yoga at some beautiful shalas, eat your heart out, lounge all day at an infinity pool in the jungle, see the lush rice fields, enjoy the Ubud market, and get up close and personal with the monkeys of Monkey Forest. It's the art and cultural scene of Bali and a must do during your time here! You can even take a bike ride tour through the local villages to see the true essence of Bali.
This is one of the most unique dining experience I've had in a while. Eating off of a floating tray, while lounging in an infinity pool, and sipping on champagne is such a necessary experience! Outside of getting beautiful photos, it's just a fun way to hang with friends and dine! I opted for the floating brunch at the Kamandalu in Ubud. (Tip - it can get wet so be sure to have towels around so your food doesn't get soggy)
One of the most fascinating things about Bali are all of the active volcanos surrounding the island. To date, one of the most special things I've done was hike Mount Batur for sunrise. It's so special I've done it 3 times! It's an early start (2am if you're in Kuta region or 3am if you're in Ubud), but when you get there, you will meet a guide who will help take you to the top. The night hike is so fun; I suggest you take a moment to look up as the stars are breathtaking. You get to the top right before sunrise and get to witness one of the most beautiful views ever! (Tip- check the weather and be sure to go when it's clear as it makes all the difference in your views. And be sure to dress warm... even though it's Bali, it can get cold!)
The best part about shopping in Bali is the ability to haggle. If you are unfamiliar with haggling in Southeast Asia, it's some of the best I've experienced around the world. You can negotiate down to less than half the price... almost always. For me, the best markets in Bali are in Ubud and Kuta. You can get some of the cutest tropical dresses, shorts, tops, jumpers, and sarongs for as low as $6 USD. I've had mine for years so I can vouch for the quality, too!
The party scene in Bali does not disappoint. You can enjoy more of a clubbing scene in Seminyak/Kuta or a beach party in Canggu. There is nothing like dancing with your feet in the sand to great music with like-minded travelers! Popular DJ's are constantly visiting Bali so I suggest researching who's in town before you come! My favourite night spots include The Lawn, La Favela, Jungle, Old Mans/Sand Bar, and La Laguna.
10. Go Temple Hopping
There's a reason Bali is called "the land of a thousand temples" - it's because everywhere you turn, you are among the most beautiful and intricate temples. I heard once that Bali is home to over 20,000 temples on just the island alone - and I believe it. As you drive along most gangs (i.e. streets) in Bali, you'll come across small shrines in offices, shops and houses. And then bigger temples for villages, regions, and states. While all are beautiful, my favourite temples on the island include: Tirta Empul Temple (where you can bathe in holy water), Ulun Danu Beratan Temple (for the picturesque views on the lake), Uluwatu Temple (for the cliff views), and Kehen Temple in Bangli (simply because it's huge and majestic)!
11. Scoot Around and Get Lost
The best way too see Bali is to hop on a scooter and explore. In fact, the cheapest and most efficient way to get around the better part of Indonesia/Southeast Asia is via scooter. You can rent one in Bali for as low as $4 USD per day (or $44/month) and gas costs about $2-4 USD per week. The roads can be busy and scary when you first start, so attempt at your own risk. However, once you become comfortable, it becomes a breeze and is a great way to see Indonesia! In Bali specifically, I suggest riding around and getting lost in the rice fields!
12. Catch a Sunset
The sunsets in Bali are some of the best I've seen in the world - period. Head to any beachside bar along the coast as often as feasible to catch the pinks, purples and orange hues!
13. Visit the Coffee Plantation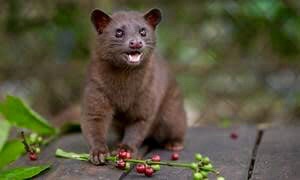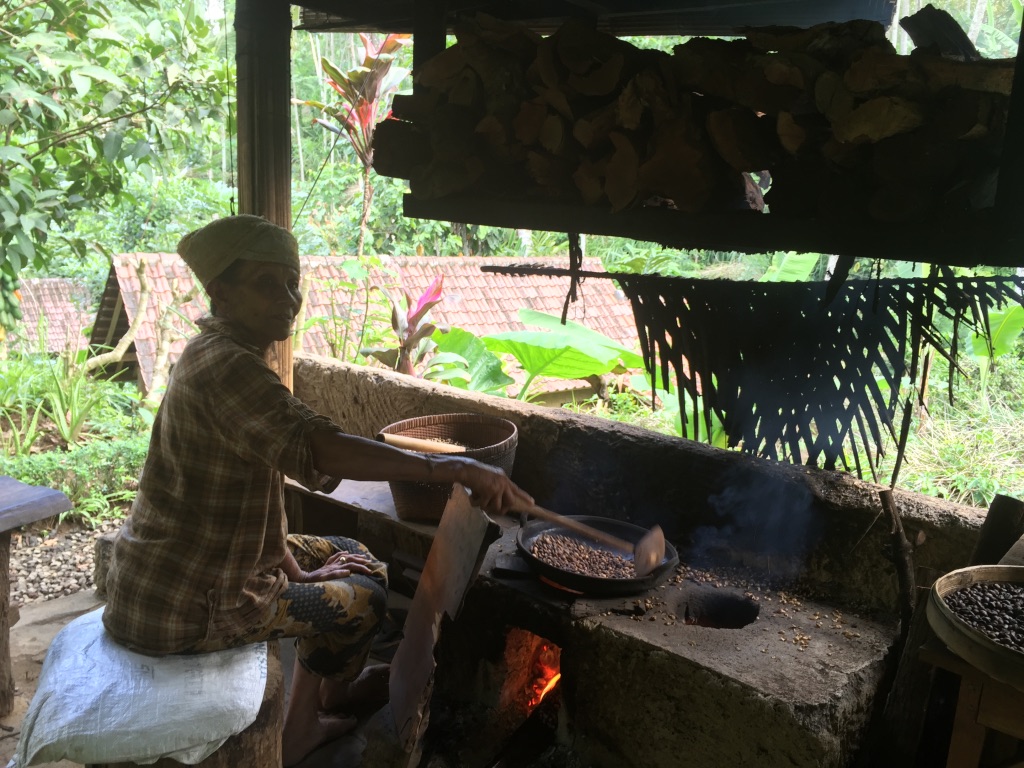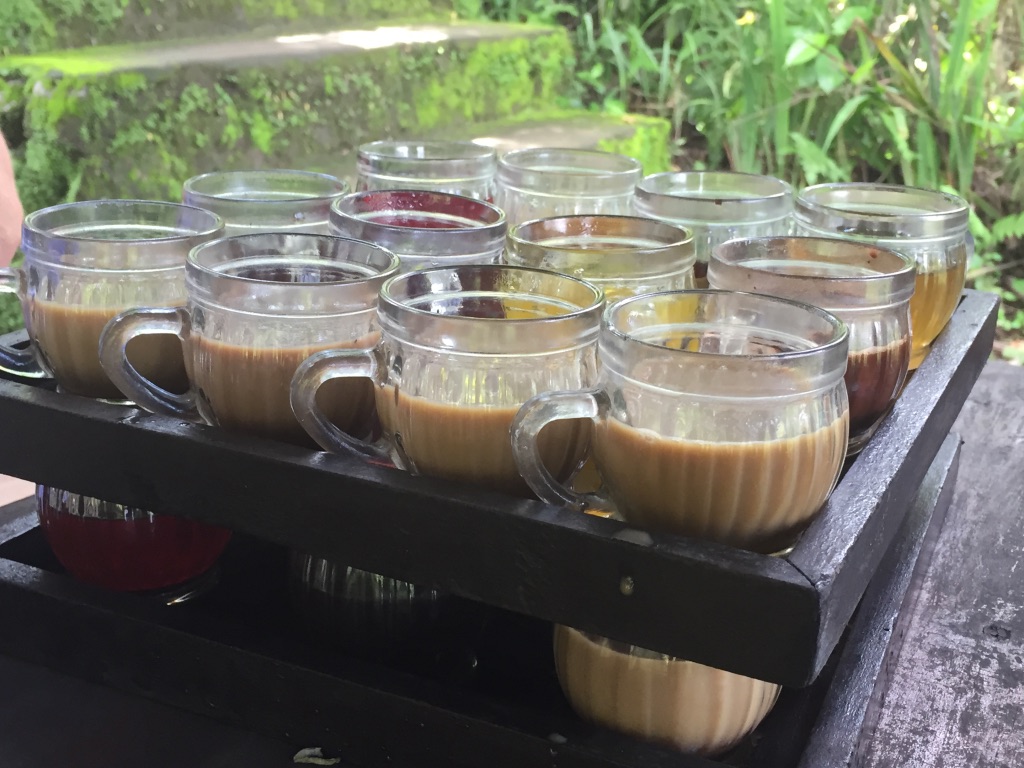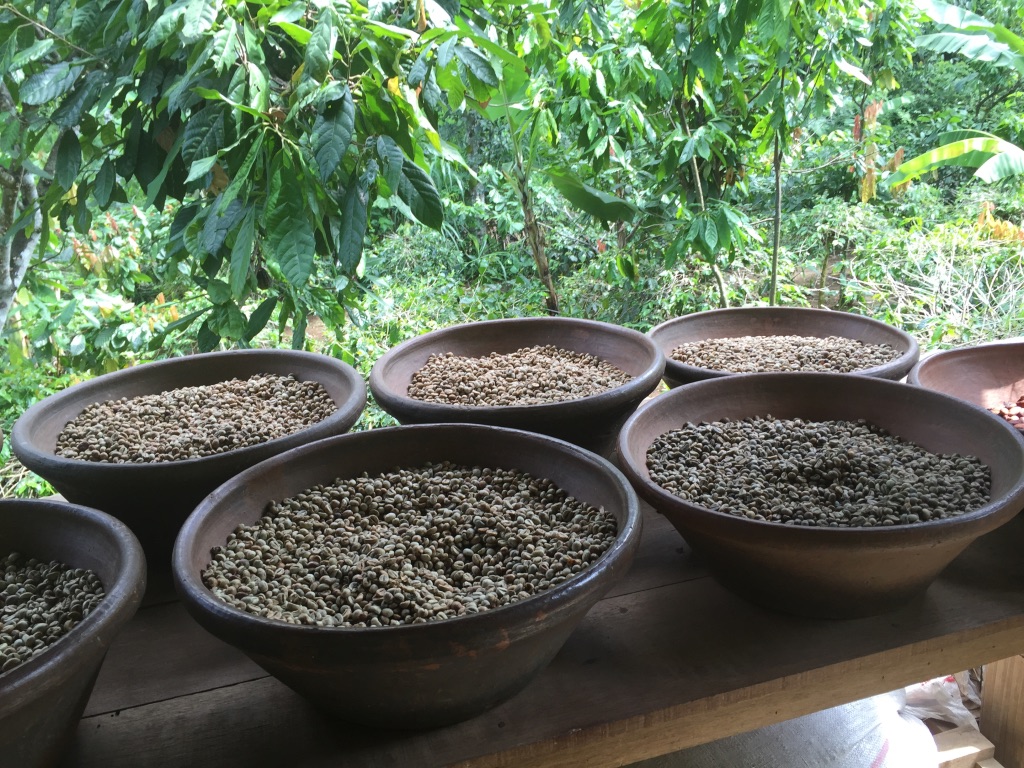 Luwak Coffee Plantations are home to the most expensive coffee in the world! The coffee beans have been digested by an Indonesian cat-like animal called the civet cat and the feces of this cat are collected, finished, and sold as coffee. Sounds gross, but it's SO tasty and extremely popular. The tours are free and mostly found in and around Ubud. Once you get there, you get to help process the coffee and it's such an enjoyable experience!
Outside of Bali
14. Visit the Gili Islands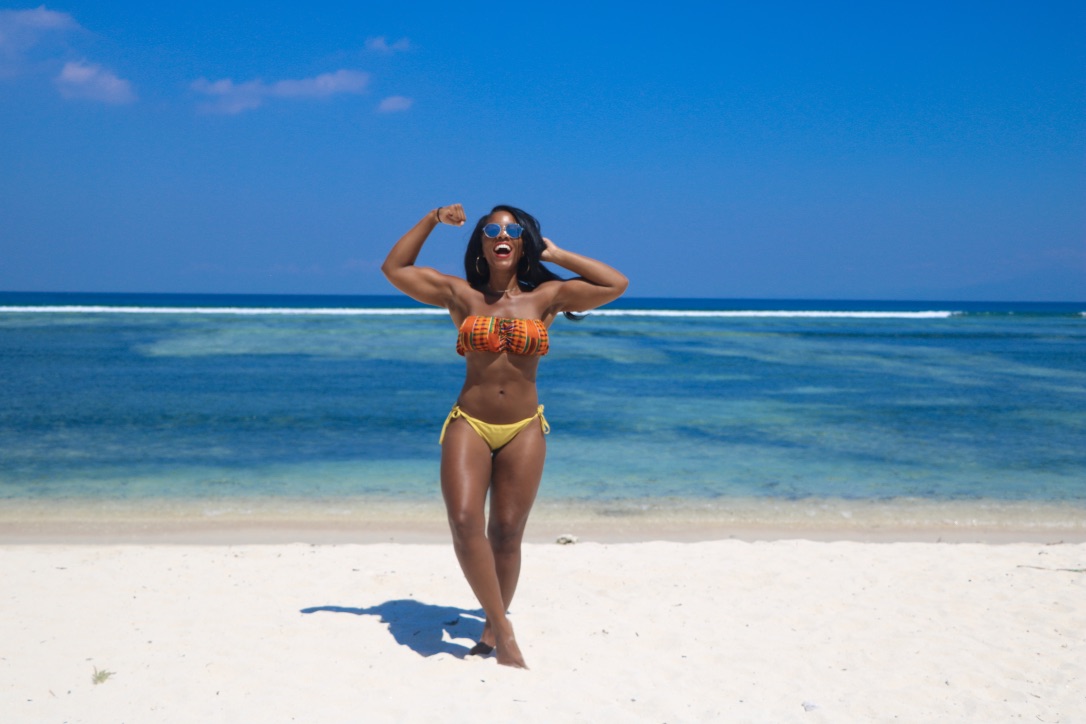 A simple 2 hour boat ride will find you outside of Bali and on the Gili Islands in Lombok. The Gili's are a group of 3 tiny islands – each having its own unique feel and all home to pristine beaches. If you're looking to have some fun, head to Gili T. But if you're looking for a more relaxing time, make your way to Gili Air or Gili Meno. Regardless of the island you visit, be sure to get some snorkelling or diving in as sea turtles are in abundance! On all three islands, the only way to get around is on foot, on bicycle, or via horse and carriage, which the island gal in me just loves! (Tip: Boat companies can be shady in Bali, so I highly suggest forking out the extra $$ and going with Patagonia)!
Another direct boat ride will take you to the remote and peaceful island of Nusa Penida. I've always said, when I write my book one day, I will head to Penida for inspiration. Between the peace, quiet, and beautiful lush scenery, it's the place to go if you need a true getaway. When you get there, be sure to focus on seeing some of the major sites like Angel's Billabong, Crystal Bay Beach, and Kelingking Beach Viewpoint. But also, be sure to relax and spend time taking in the (comparatively) untouched island.
16. Explore Nusa Lembognan
If you're going to head to Penida, it makes sense to see Lembognan as well - which is the neighbouring and larger island beside Nusa Penida. This island is great if you still want to get away from the hustle and bustle of Bali, but need a little bit more action than Penida provides. While here, be sure to rent a scooter and ride around. Visit the various beaches and be sure to scoot over the infamous yellow bridge!
17. Get on a Plane and see Flores!
Bali is great, but Indonesia has so many beautiful islands that are worth exploring. For a short 2 hour domestic flight you can visit another amazing part of Indonesia! I spent a few days in Flores and was pleasantly surprised by the beauty of this island! The town of Flores is adorable, but the key is really to hire a boat (many are available on the island) and take a trip out to the surrounding islands. They have full day, half day, and overnight options available. We did Komodo island (where we got up close and personal with Komodo dragons and visited the pink peach), Padar Island (for some of the most beautiful views), and Manta Point - where you can snorkel with the Manta Rays! (Tip - check that it's Manta viewing season). We also took a trip to Seraya Island and hung there for the day, which was lovely!
and... The FOOD
18. Enjoy a Tasty Vegan Meal
When you arrive in Bali, you'll immediately notice the vegan scene is top notch! I suggest dining at vegan cafes throughout your stay and enjoying the amazing creations! As a meat lover, I was shocked that I've enjoyed the vegan food the way I have. I was actually able to go vegan for a month while in Bali and for the rest of my time here, I've followed an 80% vegetarian diet! There are MANY restaurants that will tickle your fancy but a few of my favourites include: Peloton, Earth Cafe, and Sayuri.
19. Smoothie Bowls!
These creative and tasty delights are a quintessential Bali must. It's impossible to go into a cafe nowadays and not see an entire section on the menu devoted to smoothie bowls! My favourite smoothie bowl franchise is Nalu Bowls and one of my favourite restaurants to grab a smoothie bowl is from Organic Cafe.
20. Head to a Local Warung
At every corner, all around Indonesia, you'll see Warungs. If you want a taste of local cuisine at an affordable price, my suggestion would be to enjoy many meals here. The process is fun too! You pick the food (which is out for viewing and usually behind glass) and the server piles each item onto a plate - and isn't shy with portion sizes. The options are diverse and plentiful. The best part - the PRICE! You can get a full plate of food for as low as $2 USD. And usually all dietary needs are met as there's everything from tofu, tempeh, vegetables, sate, and Mei/Nasi Goreng!
Additional Bali tips
...that didn't make the list but are worth mentioning!
While in Bali, get a tattoo! It's much cheaper than your average western prices

Women - if you plan on doing any form of cosmetic enhancers, again, much cheaper in Bali! I've personally done micro-blading on my eyebrows... but friends have done lip injections, botox, and other procedures for a fraction of the price and the same level of quality! If that's your thing, check it out

Use AirBnb when looking for accommodations... you'll get beautiful villas with a pool for a fraction of the price of big box hotels!

If you're a nomad, Bali is a great destination for work! There's great fiber optic WiFi throughout the island (which is rare in Southeast Asia), and there are great co-working spaces where you can set up shop. Plus, the nomad community is amazing.

If you're like me, and looking to base yourself in Bali for a while, my top choices for "living" include Canggu, Ubud, or Sanur! All have great accommodations, reliable WiFi, good healthy food, a good nomad community, and all have a decent health scene. All these factors are important to me when deciding to base myself somewhere!

Make the most of your trip! If you're making your way to Bali check out some of the neighbouring countries in South East Asia as flying here is so cheap! It's also worth your while to check out Australia as Perth is only a 3 hour plane ride away!
There you have it! While there's still so much to explore of Indonesia, these are suggestions based on my experiences. Nothing is sponsored, it's just my honest opinion having been here for a year.
It's also worth mentioning, there's still so much more I'd like to see! Some areas on my Indonesia bucket list include: Mount Bromo, Mount Rinjani, Lake Toba, Amed, and Candidasa.
Enjoy your trip to Bali and I hope this helps!!